The Talia Seidman Foundation is a 501(c)3 Registered Charity and is run by a body of volunteers. 100% of all donations are used to purchase equipment and services to support homebound, medically fragile children.

We accept and appreciate all donations which can be made by sending a check made out to
'The Talia Seidman Foundation'
to
1471 Makefield Road,
Yardley, PA 19067
or, you can make an immediate donation by clicking the button below and following the instructions. Thank you!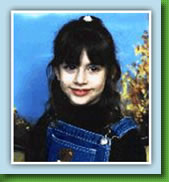 In loving memory of Talia
1992-1999
TALIA'S STORY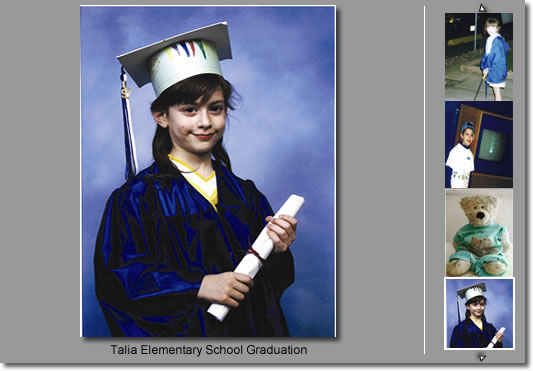 Talia was born in 1992, a healthy beautiful baby with dimples on each of her cheeks and a spirit filled with remarkable energy for life. She grew and developed into an intelligent, beautiful little girl who preferred to run rather than walk never seeming to "run" out of that remarkable energy. Talia loved playing the guitar, playing miniature golf, seeking to learn and explore both in and out of school, performing in school assemblies and Odyssey of the Mind presentations, and of course watching Rugrats. Talia was the inspiration behind the development of an innovative early childhood educational curriculum implemented at A Child's World Early Age Education Centers across the Bucks County areas. This program's educational focus is to develop brain connections with teaching problem solving and creativity skills through creating an ongoing environment of intellectual stimulation and engagement in the learning process. From the time Talia was born her mind had constant intellectual fuel from the stimulating environment around her.

The summer of 1997, Talia had just turned five and started having severe unexplainable headaches combined with abnormal eye movement. The diagnosis was a large malignant tumor in the center of her brain. Talia's spirit and energy would now need to travel beyond her beloved school, family and friends, into a world of doctors, hospitals and never ending medical treatments. Her spirit and energy were now challenged with multiple brain surgeries, intense radiation therapy, and high dose chemotherapy treatments. Talia learned to live in and out of hospitals traveling from Philadelphia to New York to Boston for the best doctors and treatments medicine has to offer. Her energy and spirit not weakening but rather courageously growing stronger with each new treatment and possible hope for a cure. She had a remarkable desire to live and continue to love life. Two years after her diagnosis Talia was still determined never to slow down, never to say I can't, still running, still loving to learn and explore in and out of school, still playing her guitar and always shooting for the "hole in one" on the miniature golf course.

' Talia's cancer ferociously stormed ahead. She became severely physically disabled. She was no longer able to run or even able to stand. Her desire to perform in school assemblies were replaced with gathering all the energy left in her body to communicate and speak. Her favorite Teddy bear she named "Smiles" didn't play much anymore but still faithfully lay in her arms next to her in bed. She still managed to brighten the room and our lives with a very labored but beautiful smile, a kiss when getting close and an "I love you" after saying good night at the end of every day. Talia's spirit and energy will now go beyond her immediate space to inspire and be strengthened through the Talia Seidman Foundation, an Initiative for Inclusive Education.
For further information about the TSF program
please call Ron Seidman at (215) 519-1993